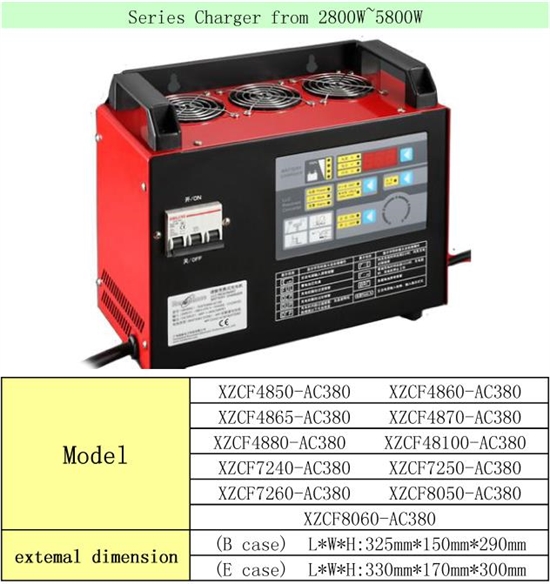 ● All the chargers from Resonance co, utilize LLC resonant topology which belongs to Resonance Company's self-invented nonlinear control technology. The chargers have higher efficiency , low harmonics, long life time , high reliability and the all performances reach international advanced lever .
● The chargers can apply to WET type and VRLA(GEL/AGM) sealed lead-acid battery .
● The chargers are widely used to charge electric forklifts、electric golf cars 、electric sightseeing cars、electric patrol cars、electric boats、electric cleaning cars and other electric vehicles.

● MCU automatically control the whole charging process which bases on Mas Charging Curve to make sure full charge .
● Digital Display shows charging time ,charging current , charging voltage and battery capacity .
● Automatically Equalizing charge can make up battery capacity.
● Depolarization pulse charging can avoid internal resistance and heat rise which make battery have false online voltage and lose water .
● Devulcanization current pulse can make resonance on Lead sulfate crystal using broadband resonance harmonic pulse,so the Lead sulfate crystal on the lead pan will drop automatically,then the battery will have longer life-time and good charged .
● Accurate current and voltage controlling , advanced monitoring dI/dt , dv/dt to make sure automatically stop . Time limiting function will avoid any over-charge .
● Intensive coating treatment and "dust proof " design make chargers working in humid and acid environment normally .
● Low frequency charging pulse mix purified water and acid together to effective full charge and little heat rising .